ADVFN Books: finance and investment
ADVFN is well established as one of the world's largest stocks and investments websites, providing price data, news and financial forums to private investors since 1999. This experience has given us a unique insight into the needs of private investors.
ADVFN aims to commission a new raft of books which will provide new insight for anyone trading or investing in this current fluid economic environment. We will also be looking to the archives to reprint some past classics.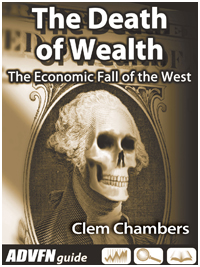 Market guru Clem Chambers dissects the global economy and lays out the evidence for the death of wealth, flagging up the milestones on the route towards impending financial disaster. Collecting together articles and essays throughout the last twelve months along with extensive new analysis for 2013, The Death of Wealth allows us to look at these tumultuous events collectively and draw a strong conclusion about what the future holds.
NOW IN PAPERBACK!
Also available
Using insider knowledge to reveal the tricks of the trade, 101 Charts is the essential guide that explains the most complex set ups in the market.
An in depth guide to making money, this easy to understand, illustrated guide is a must for all future investment millionaires.
Also available from ADVFN Books
Learn from all the suspense, mania and gloom of one of the markets' most dramatic years. Zak Mir puts all his charting expertise to practice and analyses the key stocks, markets and events to provide an essential preview of 2013. Explore the highlights and the lowlights of 2012 and learn vital lessons to help you make the best investment choices, now and in the future.
NOW IN PAPERBACK!
Also Available
Stock market commentator Simon Cawkwell (AKA Evil Knievil), the most feared bear-raider, spots overvalued stocks, shorts them and goes in for the kill. Part auto-biography, part trading guide, the book explains some of his triumphs (and downfalls) as well as describing his 'shorting rules'.
Trader/free market patriot Bill Cara demystifies the complex world of capital markets and equips you with tools and insights that you need.

Learn to avoid common mistakes even the pros make and minimize risk with this clear, concise guide to trading success.

101 pithy and well-researched tips to help day traders, investors and stock pickers to focus on what makes a potential successful stock. Clem Chambers is one of the world's leading authorities on the market.
Value Investing is a way to invest in the stock market without taking crazy risks – you can 'get rich slow' with minimal stress. The book outlines how to choose the best stocks and monitor your stocks and when to sell them.